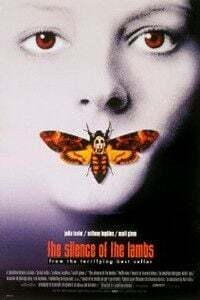 Movie Information
Release
April 24th
Rating
R
Genre
Suspense/Thriller / Horror
Runtime
1:58
Director
Jonathan Demme
Cast
Jodi Foster, Ted Levine, Anthony Hopkins, Scott Glenn, Anthony Heald, Frankie Faison, Kasi Lemmons, Brooke Smith, Paul Lazar, Dan Butler
Synopsis
A psychopath nicknamed Buffalo Bill is murdering women across the Midwest. Believing it takes one to know one, the FBI sends Agent Clarice Starling to interview a demented prisoner who may provide clues to the killer's actions.

That prisoner is psychiatrist Dr. Hannibal Lecter, a brilliant, diabolical cannibal who agrees to help Starling only if she'll feed his morbid curiosity with details of her own complicated life. As their relationship develops, Starling is forced to confront not only her own hidden demons, but also an evil so powerful that she may not have the courage - or strength - to stop it!
Comments

Part of the Happy Hour Classic Series. Admission includes a complimentary cocktail or soft drink and light appetizers starting at 6:00 PM.