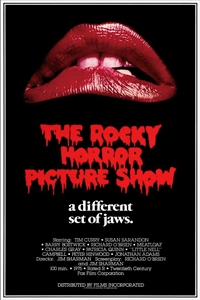 Movie Information
Release
June 6th
Rating
R
Genre
Comedy / Musical
Runtime
1:40
Director
Jim Sharman
Cast
Tim Curry,
Susan Sarandon
Synopsis
A loving couple, a few lost monsters and a sweet transvestite from transsexual Transylvania sing and dance through a campy, sloppy salute to horror movies and sexual liberation. Bring your sense of humor. And some toast.
Comments
Featuring a live floor show performance by Simply His Servants.




Click here for a complete list of rules on allowed props and show etiquette.