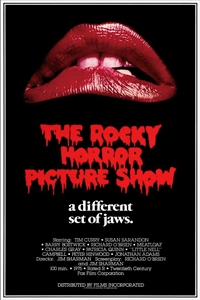 Movie Information
Release
October 7th
Rating
R
Genre
Comedy / Musical
Runtime
1:40
Director
Jim Sharman
Cast
Tim Curry,
Susan Sarandon
Synopsis
A loving couple, a few lost monsters and a sweet transvestite from transsexual Transylvania sing and dance through a campy, sloppy salute to horror movies and sexual liberation. Bring your sense of humor.

Live floorshow presented with the film by "Simply His Servants".
Comments
Please note: At this time, we are not allowing any items to be brought in for show participation. This also means you cannot throw any of the traditional Rocky items. No backpacks or large bags.