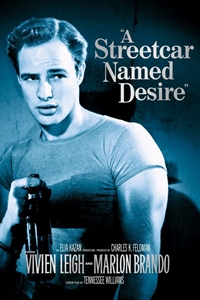 Movie Information
Release
August 28th
Rating
PG
Genre
Drama
Runtime
2:02
Director
Elia Kazan
Cast
Vivien Leigh,
Marlon Brando
Synopsis
Marlon Brando made his first indelible mark on audiences in this powerful adaptation of Tennessee Williams' Pulitzer Prize-winning play. Gone With the Wind's Vivien Leigh is the neurotic belle Blanche du Bois who struggles to hold on to her fading Southern gentility against the brutish badgering of her brother-in-law, Stanley Kowalski (Brando). Leigh, Kim Hunter, Karl Malden and the rich black-and-white cinematography were all awarded Oscars for this cinematic classic.


While Brando was the only one of the film's four Oscar-nominated actors not to secure a win, his passionate cries of "Stella! Stella! Stella!" remain etched forever in Hollywood history.
Comments

Part of the Happy Hour Classic Series. Admission includes a complimentary cocktail or soft drink and light appetizers starting at 6:00 PM.