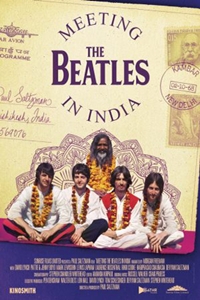 Movie Information
Release
September 11th
Genre
Documentary
Runtime
1:22
Director
Paul Saltzman
Cast
David Lynch,
Pattie Boyd
Synopsis
With new and vivid first-hand details and over 40 personal photos never-before-seen in any other movie about The Beatles, Emmy Award-winning Canadian filmmaker Paul Saltzman shares an extraordinary life
experience in a new feature documentary, Meeting the Beatles in India.
Comments
CLICK HERE FOR YOUR VIRTUAL TICKET TO WATCH "MEETING THE BEATLES IN INDIA" for $12.00 you'll have 48 hours to watch the film.  Should you encounter any issues, please click here and visit the FAQ page for support for this title. All tech issues or requests for refunds must be made through the content providers and not Cleveland Cinemas.