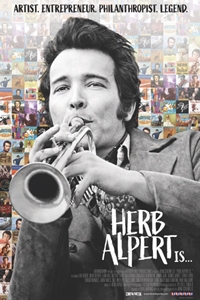 Movie Information
Release
October 2nd
Genre
Documentary
Runtime
1:51
Director
John Scheinfeld
Cast
Herb Albert,
Quincy Jones
Synopsis
With his trumpet he turned the Tijuana Brass into gold, earning 15 gold and 14 platinum records; He has won nine Grammys Awards between 1966 and 2014, and received the National Medal of Arts from President Barack Obama in 2012.

John Scheinfeld's documentary "Herb Alpert is..."profiles the artist, now 85, mostly from the perspective of colleagues like Questlove, Sting, and Bill Moyers. In their words, the shy, unassuming trumpeter is a musical, artistic and philanthropic heavyweight.
Comments
CLICK HERE FOR YOUR VIRTUAL TICKET TO WATCH "HERB ALPERT IS" for $12.00 you'll have 48 hours to watch the film. Should you encounter any issues, please click here for support for this title. All tech issues or requests for refunds must be made through the content providers and not Cleveland Cinemas.