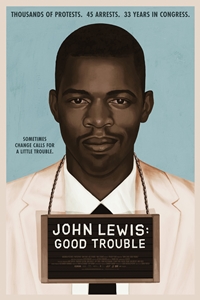 Movie Information
Release
August 7th
Rating
PG
Advisory
for thematic material including some racial epithets/violence and for smoking
Genre
Documentary
Runtime
1:36
Director
Dawn Porter
Cast
Alexandria Ocasio-Cortez,
John Lewis
Synopsis
Using interviews and rare archival footage, JOHN LEWIS: GOOD TROUBLE chronicles Lewis' 60-plus years of social activism and legislative action on civil rights, voting rights, gun control, health-care reform and immigration. Using present-day interviews with Lewis, now 79 years old, Porter explores his childhood experiences, his inspiring family and his fateful meeting with Dr. Martin Luther King Jr. in 1957. In addition to her interviews with Lewis and his family, Porter's primarily cinéma verité film also includes interviews with political leaders, Congressional colleagues, and other people who figure prominently in his life.

Immediately following the feature, there will be a pre-recorded discussion between Representative Lewis and Oprah Winfrey, filmed last month and being made available exclusively for virtual cinema and in-theater engagements of the film. This is a wide-ranging, informal, 16-minute conversation that's a perfect follow-up to the documentary, and could not be more relevant.
Comments
CLICK HERE FOR YOUR VIRTUAL TICKET TO WATCH "JOHN LEWIS: GOOD TROUBLE" for $12.00 you'll have 48 hours to watch the film. Should you encounter any issues, please click here for support for this title. All tech issues or requests for refunds must be made through the content providers and not Cleveland Cinemas.

Also watching the film through our Virtual Screening Room gives you access to the exclusive Q&A between John Lewis and Oprah Winfrey, which plays at the end of the film and is only available through virtual cinema.