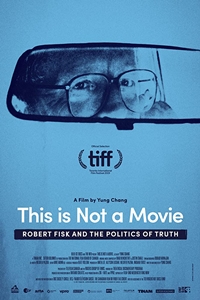 Movie Information
Release
October 16th
Genre
Documentary / Action/Adventure
Runtime
1:46
Director
Yung Chang
Cast
Robert Fisk,
Nirmeen Hazineh
Synopsis
For more than 40 years, journalist Robert Fisk has reported on some of the most violent and divisive conflicts in the world. Yung Chang's This Is Not a Movie captures Fisk in action—feet on the ground, notebook in hand, as he travels into landscapes devastated by war, ferreting out the facts and firing reports back home to reach an audience of millions.
Comments
CLICK HERE FOR YOUR VIRTUAL TICKET TO WATCH "THIS IS NOT A MOVIE" for $10 you'll have 72 hours to watch the film. Should you encounter any issues, please click here for support for this title. All tech issues or requests for refunds must be made through the content providers and not Cleveland Cinemas.

Plus a FREE special Q&A event on October 21st at 1 PM featuring Henry Rollins, Yung Chang and Robert Fisk.