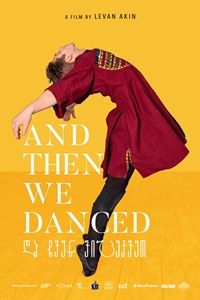 Movie Information
Release
March 28th
Rating
NR
Genre
Drama
Runtime
1:46
Director
Levan Akin
Cast
Levan Gelbakhiani,
Bachi Valishvili
Synopsis
Levan Akin's beautiful and gripping love-story AND THEN WE DANCED launched in Directors Fortnight at Cannes. Set against the backdrop of Georgia's traditional dance scene, the film follows an obsessive young dancer Merab (Levan Gelbakhiani), who has been training at the National Georgian Ensemble with his partner, Mary (Ana Javakishvili), since he was a child. Merab's world is turned upside down, when the carefree and charismatic Irakli (Bachi Valishvili) arrives, rivalry soon turns to longing as the two draw closer together.
Comments
Starting Saturday, March 28th CLICK HERE TO BUY YOUR VIRTUAL TICKET  FOR "AND THEN WE DANCED" for $12 and get 48 hours to watch the film at home.

50% of revenue goes directly to Cleveland Cinemas. Thank you for your support!
If you have any issues please click here for support for this title. All tech issues or requests for refunds must be made through the content providers and not Cleveland Cinemas.