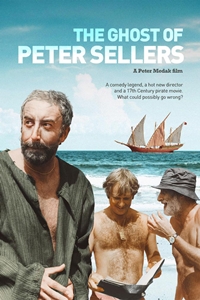 Movie Information
Release
May 29th
Genre
Documentary
Runtime
1:33
Director
Peter Medak
Cast
Peter Sellers,
Spike Milligan
Synopsis
In 1973 comedic genius Peter Sellers sabotaged his own pirate comedy, "Ghost in the Noonday Sun." Decades later the young director on the project, Peter Medak, is still reeling from the disastrous experience.

This unique documentary allows Medak a chance to revisit his most challenging project and finally lets him to close the book on this chapter of his life. "The Ghost of Peter Sellers" is essential viewing for movie fans and offers a rare chance to see making-of footage from "Ghost in the Noonday Sun."
Comments
CLICK HERE FOR YOUR VIRTUAL TICKET TO WATCH "THE GHOST OF PETER SELLERS" for $10.00* you'll have 48 hours to watch the film. Should you encounter any issues, please click here for support for this title. All tech issues or requests for refunds must be made through the content providers and not Cleveland Cinemas.

*Note that the usual ticket price for this title is $18 but you'll save $8 with the pre-loaded code CEDARLEE and you'll also be supporting your favorite local cinema!